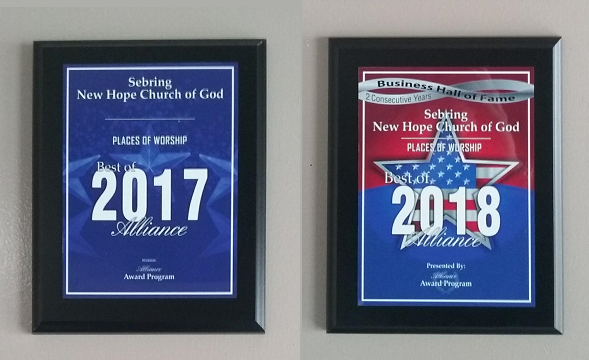 Given the distinction of the #1 best place to worship in Alliance by the Alliance Awards Program for 2017 & 2018!

Welcome to New Hope Church's website! We're so glad you took the time to look. While, you're here, browse around our site and see all we've got going on. We have something for everyone to connect you not only to this Body of Believers, but to God Himself through a relationship with Jesus Christ! We can help you find where you belong and what you were created for. If you have any questions, feel free to contact one of our Ministry Team. We'd be glad to help you! God Bless!!
New to New Hope or thinking of making a visit and want to know what to expect? Read about it here.
Keep up-to-date with all our events and import them to your phone or calendar here.

Senior Pastor Don and Susie
New Hope Church of God is a body of believers dedicated to spreading the life of Jesus Christ.
Address:
20990 Oak St., Alliance, Ohio 44601
Phone:
(330) 680-4590
Service Times:
10:45 am Every Sunday
Youth Group:
Meet Sunday Evenings For Cell Group
Details on the Cross Fire page

Prayer Force:
10 am Wednesday Mornings
To keep up with all our Church events check out our Church App.